Our Grass
Natural, Fresh and Biodegradable Dog Grass
Original Hydroponic Grass
Our specially formulated, hydroponically grown dog grass is designed to work perfectly as an indoor dog potty, a porch potty for your dog, or outside on your balcony as a fresh potty patch for dogs. Our grass for dogs and puppies weighs slightly more than one half as much as standard sod for easy lifting and is "soil-less" which means it contains none of the dirt you find in sod sold in home improvement stores. Try this indoor puppy potty out and see for yourself how much you and your dog will love having their own convenient fresh patch of grass for bathroom breaks!
Choose Subscription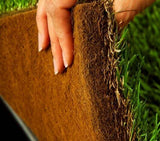 Natural & Fresh Dog Grass
Unlike conventional plastic indoor puppy potty pads, our real dog grass products are environmentally-friendly and natural. Upon receiving your dog potty grass, you will immediately notice the freshness of our products. We place an emphasis on the quality of our real grass for dogs and puppies, understanding that your pup deserves to have nice bathroom breaks, too. Pick your plan to test it out and see for yourself how much you and your dog will love having your own convenient real dog potty grass!
Choose Subscription
Biodegradable & Easy to Clean Up
Our hydroponic porch potty grass for dogs is "soil-less", meaning you won't find the dirt (or mess) that you would find in sod sold at home improvement stores. This allows for the easiest cleanup imaginable - simply lift the dog grass and dispose of it in your nearest green, compost can (or trash). We also now offer a local non-hydroponic real grass option for our central and east coast customers.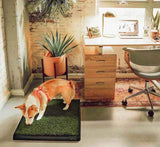 Looking for Help?
Get Started with a Dog Lawn Subscription
Pick a plan that's right for you.
Pick A Plan
Reviews
Hear what some of our valued customers have to say about our natural grass mats.
Read Reviews
FAQ
Here are some Frequently Asked Questions about our real grass dog potties.
View FAQs