1
Choose a Dog Lawn Size
Get started by picking the size of your DoggieLawn dog potty pad. We have four dog grass pad sizes to choose from. Standard, Medium, Large and XL pet potty grass. What size grass pad is right for your dog?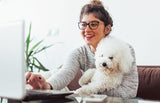 2
Get FREE Shipping
Your grass pad subscription ships FREE via Fedex! Just sit back and we'll take care of the rest. From harvesting a fresh piece of grass, to processing and shipping- we do it all so you don't have to lift a finger!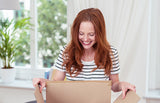 3
Be Happy!
Just open your indoor grass pad box when it arrives and enjoy the magic that is DoggieLawn. Place your dog potty on your balcony, patio, indoors, or anywhere you can fit it. You are in complete control. You can receive future shipments on a cadence of your choosing! DoggieLawn is built with YOU and your dog in mind.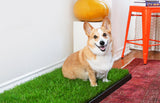 A Grass Pad Size for Every Dog!
DoggieLawn offers REAL dog patio potty grass that your dog can use indoors or outdoors in four different sizes (six if you count our two smaller sizes for critters and cats)! Our Standard DoggieLawn grass pad is 16 x 24 inches and is perfect for dogs 15lbs and under. Our Medium DoggieLawn grass pad is slightly bigger at 20 x 24 inches and is good for dogs up to 30lbs. For dogs 20-50lbs, we suggest our Large DoggieLawn grass pad that measures at 24 x 24 inches. Dogs over 40lbs, or households with multiple dogs may want to opt for a dog grass box with more surface area. Our 24 x 48 inch XL DoggieLawn grass pad is ideal for larger dogs! Pick the size that's right for you and take comfort in knowing that you are providing your dog with a place to potty- day or night, rain or shine!