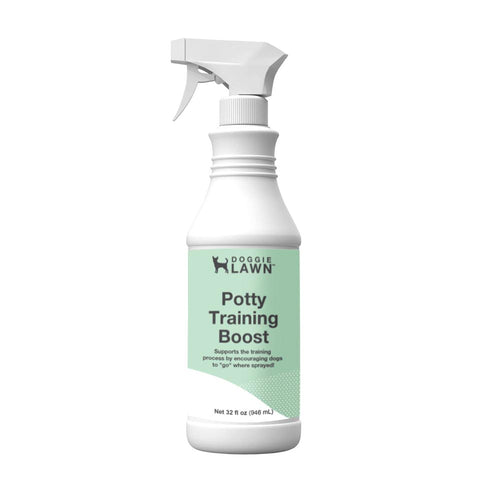 DoggieLawn Potty Training Boost
DoggieLawn's Potty Training Boost (32 fl oz) is an attractant spray made with a proprietary scent to train dogs of all ages to go potty on their DoggieLawn! When you spray the Potty Training Boost on your DoggieLawn, the pheromones will help entice your dog to pee on the grass! Just spritz your DoggieLawn right before your dog's usual potty time and reapply as needed. Once your dog pees, be sure to follow up with tons of praise! 
FREE SHIPPING OVER $49 OR WHEN SHIPPED WITH A LAWN
Description
DoggieLawn Potty Training Boost (32 oz) is ideal for:
Housebreaking dogs of all ages, including new furry additions to the family
Using routinely for potty training
Helping dogs to distinguish where to go and where not to go through smell

Ingredients:
Deionized Water, Preservatives, Proprietary Attractant Scent
Keep product out of reach of children and pets to avoid unintentional consumption. In case of contact with eyes, rinse thoroughly with water.